Welcome to
Wee Love Learning
Wee Love Learning is a non-profit, pre-paid childcare facility located on the Westside of Olympia. "Wee" is licensed by the State of Washington Department of Early Learning.
Wee Love Learning strives to maintain a reputation of excellence in all areas of childcare, preschool, and school-age children. We respect our children and encourage them to develop socially, emotionally, intellectually, and culturally through age-appropriate activities in a warm and safe environment.
Our center accepts subsidies from the Department of Social and Health Services, Private Pay, and other subsidy programs.
Our History
In the summer of 2010, a small community of faith called WindWorks Fellowship was looking for a building to meet and use as a daycare. The idea was to create enough revenue through the daycare along with the generosity of community members to meet the obligations of renting. A building was found that originally began as a Harley Davidson business located in the Olympia Auto Mall. That small group of people went to work transforming and remodeling the facility for its dual purpose.
Those that began the daycare wanted a name that would capture the values of the founding group when the center was still nothing more than an idea. The founders settled on the name Wee Love Learning (WLL) and opened the center in the Spring of 2011. By 2015 the center had grown enough to purchase the building and create a better environment for children and staff.
During the first several years the center struggled to establish an enrollment that would create stability for the daycare. Enrollment grew slowly but steadily, with a diverse representation of families. During the first two years the organizers realized many of the families qualified for Department of Social and Health Services assistance. Eventually, WLL became aware of the reluctance of many corporate daycares to accept many families using assistance. We have always embraced taking all people, including qualified families, as part of our identity. This open and welcoming approach fit our non-profit status and founding values, and makes us a highly desirable alternative to the corporate, for profit, daycare model. Wee Love Learning's loving approach became well known in the community, and we became the care provider where families referred other families.
Thanks to COVID relief funds, the hard work and flexibility of WLL staff, and especially Executive Director Kristen Bernard, and Assistant Director Sarah Beck, WLL has managed to survive the pandemic and remain open. Efforts are now focused on reestablishing the normal operations of the center and all are invited to be part of the continuing story.
Core Values
At Wee Love Learning, we know the following core values as our "guiding principles" and they help define how we act toward each other and the decisions we make every day.
Respect
Cooperation
Collaboration
Openness
Trust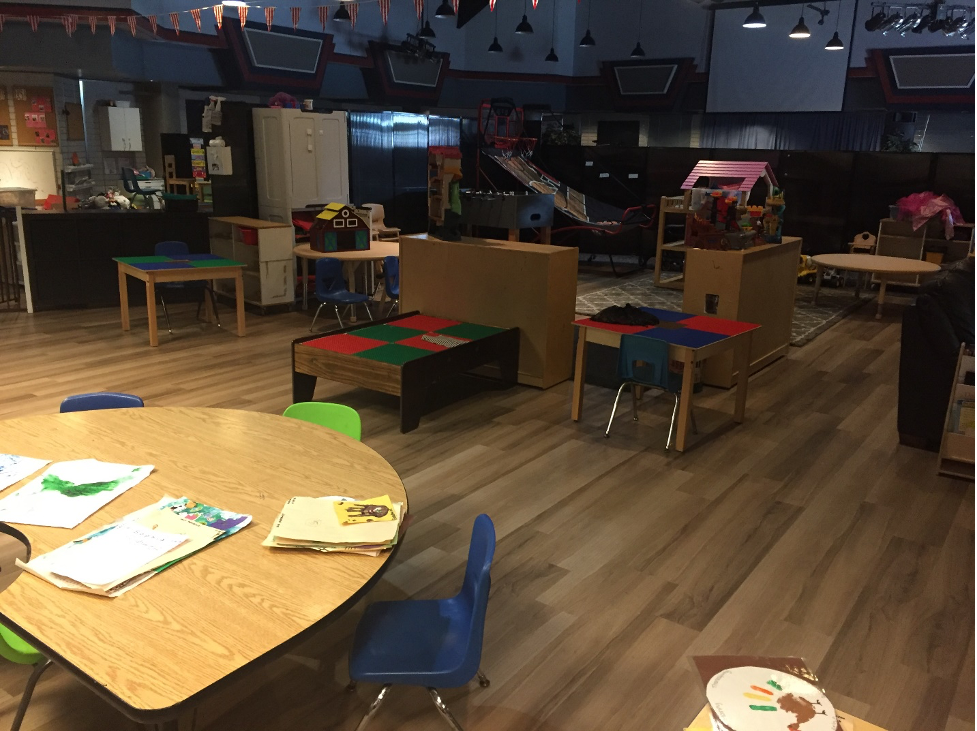 Our Mission and Vision
Wee Love Learning shares and aspires to values written in the dedication to John Wellwood's book, Perfect Love, Imperfect Relationships, "This book is dedicated to peace in the world. May all human beings know they are loved – so that they may live at peace with themselves and others."That is the hope and guiding principle for all Wee Love Learning Early Learning Center does in providing care for children and their families.
In the name, Wee Love Learning, can be found the beliefs and mission of the center and its work.  Wee, an endearing name for little children, Love Learning means children love to learn.  This language is important because it implies that instruction or daycare doesn't create learners; rather, as human beings all people come into the world as learners.  Children are naturally curious and the philosophy at Wee Love Learning is that the best kind of learning is done in the context of a child's natural curiosity and exploration – learning through play.
The name can also be read with Love as the subject, so we are also "Love Learning" or learning about Love. WLL approaches Love as a basic human need as vital to health and wellbeing as the physical needs of food, shelter, and safety.  Furthermore, love is our truest identity and the lifelong subject of every individual's learning.  WLL recognizes that none of us has arrived, but we are all connected – children, parents, and staff – by a need to love better.  This shapes WLL in everything the center does on behalf of children and families.